Accessories - Bill Davies ATV
A wide range of accessories to help you get the most from your ATV.
ATV Boxes
All Terrain Vehicles are an essential tool of the busy farmer, add and ATV carrier to transform your workhorse into a packhorse in less in than a minute.  All carriers are one piece moulded in rugged plastic making them rustproof and maintenance free.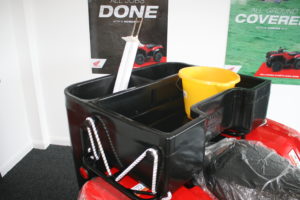 Wydale Rear Quiver
An easy to fit rear box made of durable Polyethylene, with deep storage compartments that hang over the rear of the bike, ideal for fencing stakes and long tools. £155 +VAT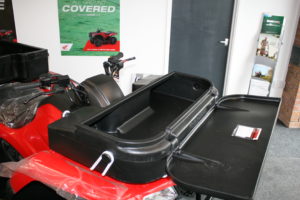 Wydale Front Toolbox
A front mounted toolbox with a wrap around design to maximise capacity and a forward hinged lid for easy access.  Fully waterproof Polyethylene construction. £90 +VAT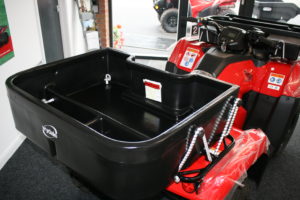 Wydale Rear Trunk
Still allowing easy access to the rear of the ATV, this carrier doesn't restrict a trailer from easily being hitched.  Easy to fit bungy system means quick installation. Made from hard wearing Polyethylene. £125 +VAT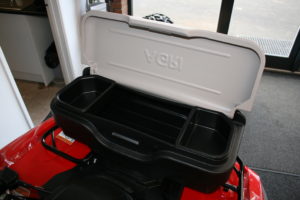 Agri Storage Box
A front or rear mounted storage box with two removable trays, ideal for carrying medicines during lambing. Installed using the provided bolt on mounting kit. £90 +VAT  
Safety And Comfort
A variety of different equipment to ensure you are both safe and comfortable while using your ATV.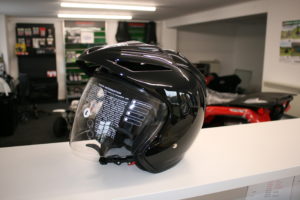 ARC Helmets ATV Helmet
A heavy duty helmet with both a clear fold down visor and a sun visor. Large removable padding ensures great comfort and safety. £58 +VAT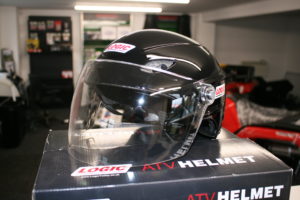 Logic ATV Helmet
Available in 4 different sizes. Includes a drop down visor, removable and washable liner, 4 air vents and a quick release buckle. £47 +VAT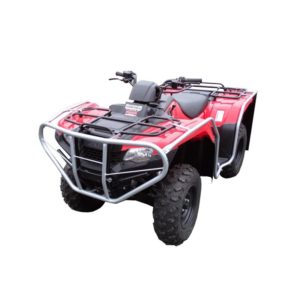 ATV City Bull Bars
High quality, hot dip galvanised, thick wall tube Bull Bars provide added protection around you and your ATV. Ideal protection from cattle or hard protruding objects. Available for a variety of models, enquire for more information.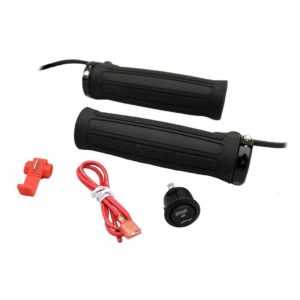 Heat Demon Heated Grips
Electric heated grips that fit all ATV handlebars. Two heat settings using 40 Watts, all installation hardware included. £60 +VAT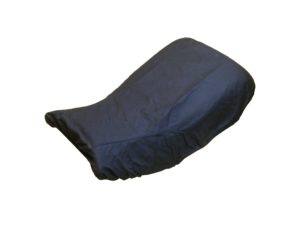 ATV Seat Covers
We have a wide range of seat covers for a variety of ATVs, perfect for protecting against the elements as well as muddy riders. £35 +VAT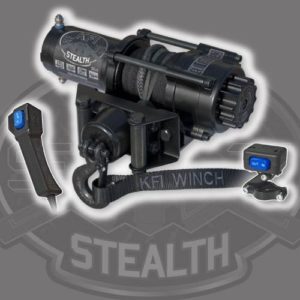 KFI SE35 ATV Winch
A powerful 3500 Lb (1588 KG) winch to help you in those sticky situations. Included is a handlebar mounted control, a corded remote control, heavy duty electric contactor and a cable hook stopper. £350 +VAT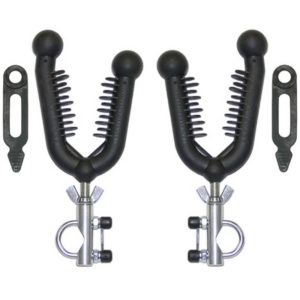 All Rite Gun And Bow Rack
A steel fork coated in rubber to protect your gear, mounted via an aircraft quality aluminium mounting block adjusted using a wingnut. This system uses alternating long/short rubber fins to hold your equipment safely while still allowing for easy removal. Other models available. Starting at £35 +VAT
Dog Mats
Rubberised dog mats provide stable footing for dogs and a non-slip surface for other loads, while protecting your ATV.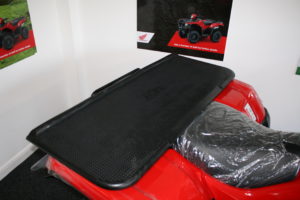 ATV City Dog Mat
A thick rubber mat with a pimpled surface for increased grip in any weather. Dimensions – 525mm x 1220mm. £55 +VAT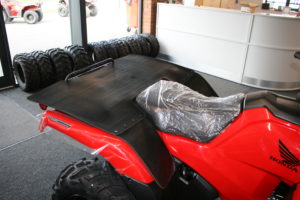 Quad X Dog Mat
A rubber mat with detachable flaps for added protection down your ATV wheel arch and a grooved finish for increased grip. £60 +VAT