Feeders - Bill Davies ATV
Logic ATV UTV Multi Feeder LMF
Our standard UTV/ATV Multi Feeder LMF hopper has a capacity of 356 litres (approximately 320kg, depending on feed type).
An extended hopper version is available with a 625 litre capacity (approximately 500kg, also depending on feed type).
Suitable for use with other vehicles such as pickups, 4X4s etc., the standard unit comes with 22×11-8 wheels and tyres although different wheel/tyre combinations are available depending upon individual requirements.
Mudguards and livestock fenders are also available, as are tonneau covers (different sizes for standard and extended hoppers).
Standard Features
356 litre hopper capacity
22×11-8 wheels/tyres
Resettable drop counter
Remote operation
Simple, robust electrical mechanism for easy towing
Excellent ground clearance
Strong construction – light towing weight
Options
Tonneau cover
Mudguards
Livestock fenders
Tandem axle version
Extended hopper version, 625 litre capacity
Hard-top bale rack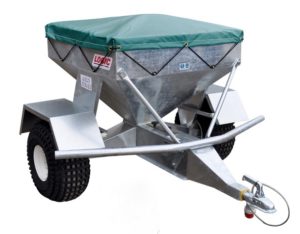 Case Study Video 1  Case Study Video 2  Case Study Video 3
Applications
Anyone feeding stock outdoors will benefit from a Logic Multi-feeder. Logic introduced the original 'Snacker' (Snacka) more than twenty years ago and since then the design has often been copied but never beaten. The Logic Snacker was developed and improved and became the Logic Multi-feeder. The very simple, robust electrical system which operates the drop mechanism gives the Logic Multi-feeder the huge advantage of being able to drop piles of food a minimum of 10 feet apart which means the animals have plenty of space to feed. This is especially useful for feeding cattle but offers the same benefits when feeding sheep.
With the Logic Multi-feeder, drop distance is simply adjusted by altering the towing speed. In addition, the drop quantity can simply be adjusted to meet ground conditions and flock/herd size . There is a resettable counter which is attached to the front carrier of an ATV or if a landrover/UTV is used, housed in the cab next to the operator – this means the operator can feed the stock on the move and the amount of feed is accurately monitored and controlled. This unit has excellent ground clearance with the design of the delivery chute preventing any build up of mud, snow, etc. which would stop the feed flowing efficiently. All of these significant benefits are the reason why many satisfied customers have paid a premium for a Logic Multifeeder over a drum feeder system.
Logic ATV UTV Game feeder/Broadcaster EBCTFL
The EBC-TS range of UTV – ATV Game Feeder/Broadcasters are designed as a top of the range game-feeding system with hopper capacities of 85/130/300 litres. Each unit features a strong all-welded galvanised frame, polyethylene hopper, stainless steel metering unit and corrosive resistant fixings. All these components are designed to achieve good performance over a long life.
The control box allows control of the feed and disc speed which dictates spread width, offering widths of between 3 and 6 metres approximately. The high output metering system allows the operator to easily feed for short bursts and place the feed exactly where it is required. A precision metering system is available as an option and provides accurate distribution of small seeds/game cover/prilled fertiliser.
The spreading disc has 4 vanes rather than 3, with more height than average spreaders to prevent build up of material on the disc.
Standard Features
300 litre capacity
Powerful 12v DC sealed motor to ensure long life.
Offset motor with gear belt drive which protects the motor.
Adjustable base plate for easy set up on the carrying vehicle.
Stainless steel spreading disc with 4 tall vanes.
2 speed control box to provide 3m or 6m spread widths.
Remote wired control box to allow easy and safe operation from the drivers seat.
Options
LMF101 tonneau cover
Demount or trailed models
Precision metering plate for use with seeds/fertisliser
Other models 85/130 litre capacity suitable for ATV/UTV use.