Mowers & Toppers - Bill Davies ATV
Wessex AR120 Rotary Mower
Wessex AR rotary mowers are the first choice for paddock topping & maintaining regularly mown grass areas. Well suited to general pasture topping or fine turf work, Wessex AR's are popular on farms, studs and private estates, and will complement an ATV, utility vehicle or 4 x 4.
Available in 1.2m, 1.5m and 1.8m working widths, & with a variety of engine sizes, the AR Series rotaries are robust and durable machines ideally suited to private estates, farms, and studs.
Standard machines are fitted with side mounted wheels, which allow ground contours to be followed accurately without scalping. However, if a machine is required to mow close to borders and fences etc, the optional rear wheel configuration is available on the 1.2m and 1.5m models only. With wheels behind the machine, the weight on the ball hitch is greatly increased, therefore when using a rear wheeled machine, the towing vehicle must have adequate weight capacity on the draw bar.
If the towing vehicle has inadequate drawbar capacity, the third wheel option is available. The entire weight of the machine is now on its own wheels and the drawbar is floating.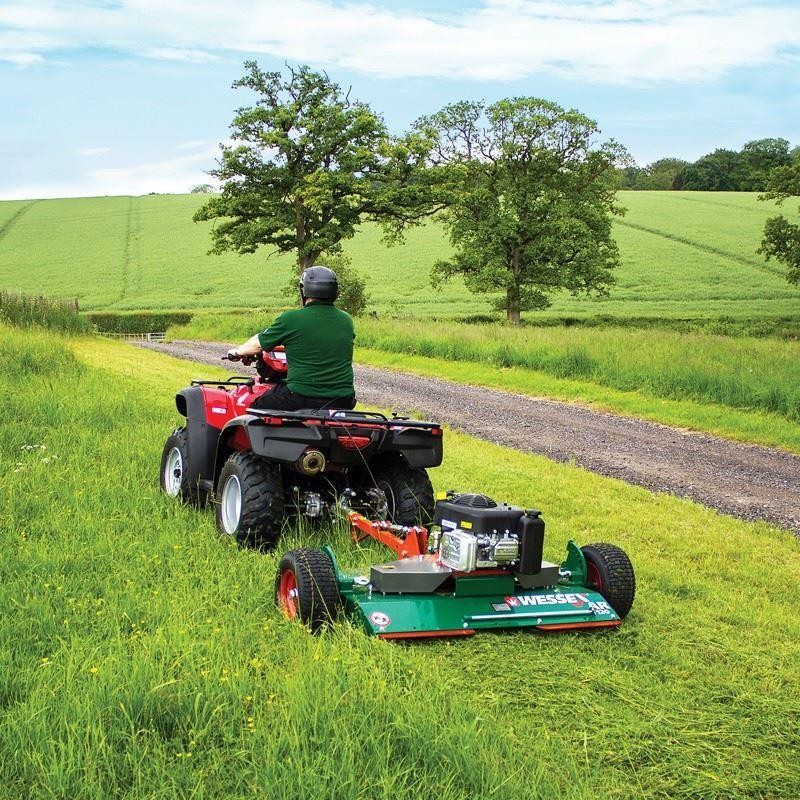 Logic MFT 'scrub buster' flail mower
The Logic MFT "Scrub Buster" flail mower range is one of two Logic flail ranges available. The Scrub Buster is designed to tackle heavy duty, rough conditions and when used in combination with an ATV/UTV provides access to rough or steep ground which may not be accessible to larger machinery.
Logic flail mowers are able to cut grass, rush, brambles, heather and other vegetation. When fitted wiith the low ground pressure tyre option, they allow access to wet ground, preventing wheel ruts and minimising damage.
See the MFP flail mower range for the other option, recommended for more general topping purposes. Also, the TRM rotary mower, suitable for regular topping/grass cutting on more even ground.