Harrows - Bill Davies ATV
UTV ATV Chain Harrow
The CH100/CH200 are standard chain harrow webs which have 4ft (1.2m) and 6ft (1.8m) widths respectively. As with all Logic products, these chain harrows are strongly made and perform a simple, no-nonsense task behind a suitable towing vehicle.
Standard Features
Simple, conventional chain harrow
1.2m (4ft) or 1.8m (6ft) harrow widths available
Strong construction
Tow behind any suitable vehicle
Applications
ATVs are very useful when paired with chain harrows due to their low ground pressure ability, allowing access to the land when a tractor would be too heavy. It then becomes easy to de-thatch the grass in early spring when it might be too soft for a tractor to venture onto the land, so promoting healthy growth right from the beginning of the season.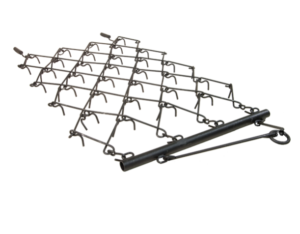 Logic ATV UTV Pro Harrow
What does this ATV/UTV Harrow do?
This is a harrow aimed at customers who are looking for a superior harrowing implement. It is far more efficient at removing moss and thatch from grass and has a stronger scarifying action. This makes it better at stimulating grass growth than a chain harrow as it allows more oxygen to get to grass-roots level. Spring tine harrows are also useful when seeding a paddock – harrow thoroughly, sow the seed then roll the surface with a Ballast Roller to firm the seed into the soil.
Why do I need one?
When using a harrow in paddocks, the dead grass is removed and scarifying the soil surface stimulates the growth of healthy new grass. If re-seeding, the soil surface requires tilling first. All these things will help improve the grazing. If you need to harrow in awkward places (for example, reversing into corners) or easily move the harrow between paddocks, this version is for you.
The Pro Harrow can be used on menages to quickly dress the top surface and is excellent on all-weather gallops, quickly grading the surface ready for the next session.
Standard Features
2.0m working width
34 Genuine EinbockTM spring tines
Transport wheels allow easy movement between sites
Simple manual raise/lower lever
3 position lever to adjust action
Applications
Arenas and all-weather gallops.
Paddocks and any grassed area – please see Harrows section for more information on this product for this requirement.