Trailers - Bill Davies ATV
Logic ATV (off road) SST trailer
The Logic SST High-Sided ATV Trailer is a high sided model of the general purpose STT trailer. This trailer has the same body dimensions of the TGT400 high sided tipping trailer and is available in two body lengths of 1.5 and 1.8 metres with single or tandem axle options.
Similar to the STT, this trailer benefits from a very strong, all welded construction and has a fully hot-dip galvanised body.
Standard Features
Trailer body dimensions: 1500 x 1000 x 800mm
Hot-dip galvanised body for durability
Alloy treadplate floor
Bead lock wheel rims for added safety
50mm swivel tow hitch
Flotation tyres for low ground pressure
Tailgate doubles as loading ramp
Options
Turf tyre option available
Half-door (side hinged) tailgate
Side-hinged mesh tailgate (half or full width)
Stockgate internal partitioning
1800mm length body
Wheel guards
Mudguards
Applications
The SST is an ideal general purpose trailer capable of carrying all kinds of loads/materials with the usual low ground pressure facility.
It can be useful in a wide variety of situations, for example, transporting equipment for ground maintenance or collecting grass, leaves or litter.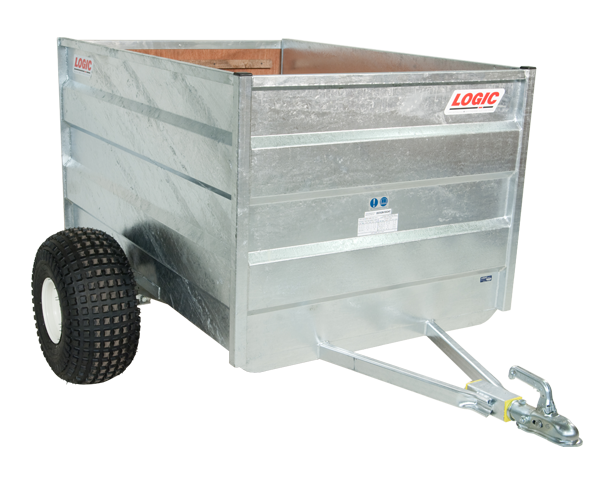 CLH Livestock Trailer
This trailer is constructed with a fixed side
Fully galvanized
750kg gross weight
Cast coupling
Available in 6'6″ x 49″
Removable canopy
42″ internal height
Internal divider gate with two sets of hinges
Extra gates / hinges available on request
Loading door in rear tailgate
Wheels and tyres options
20.5 x 8 x 10 wheels and tyres, or
155 R13 wheels and tyres
Aluminium loading gates available.